Archive: September 2022
The Class of 2025 will have a Ragball Tournament on Saturday, October 1 at Earl King Park in Calico Rock.
Games start at 9 A.M.
$150 entry fee per team.
Winners receive T-shirts
Home Run Derby after
sign up online, or visit
Email any questions to crclassof25ragball@gmail.com
---
Calico Rock School District Provides New Mental Wellness Resource for Parents
As the pandemic's unseen costs begin to unfold on the mental health front, some wonder how school children will be impacted. Despite the massive challenge we face, there are growing resources to help families who are struggling.
Virtual Family Mental Health Night - Talk to a Therapist
Calico Rock School District is partnering with The Cook Center for Human Connection to host a free virtual Family Mental Health night on September 28, 2022 from 7:00-8:00 PM. Participants will hear from a leading clinical psychologist, be able to ask questions, and learn about free resources available.
Register now by going to https://CookCenter.info/Sept 28
If attending: Please fill in this form so we can estimate attendance:
If you miss this event or can't make it live, check out https://ParentGuidance.org where you can access on-demand virtual courses, professional support, and a safe community for parents to learn how to support their children and get answers to mental health questions. There are courses on anxiety, depression, self-worth, grief and loss, suicidal ideation and other mental health concerns. All courses are created by therapists, psychiatrists, psychologists and other certified mental health practitioners. There is even a portal where you can "Ask a Therapist" your tough questions, as well as see questions and answers from other parents.
The Cook Center for Human Connection has made these resources available to help increase hope in a time of continuing uncertainty and growing mental health concern. There are good people in your community working to provide solutions and help for those who are struggling. If you or anyone you know is in a mental health emergency, reach out immediately to the suicide prevention lifeline here: 1-800-273-TALK (8255) or text HOME to 741741.
---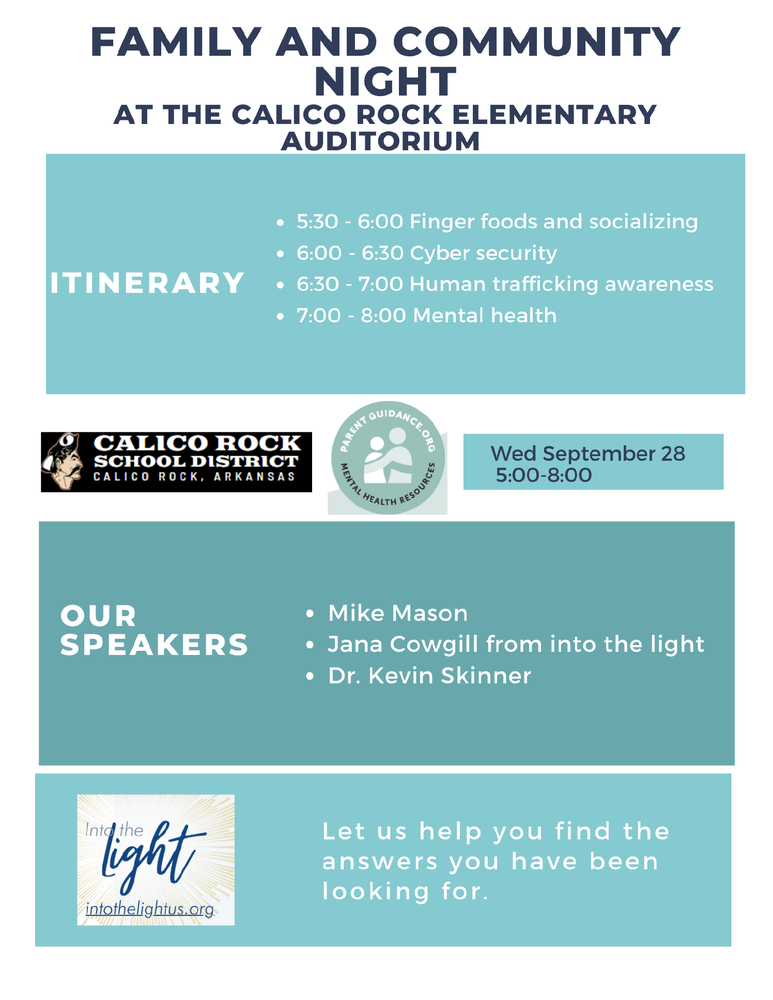 ---
---
Please take a moment to fill out this survey form. Your feedback is important to us.
---
FFA will have their annual rodeo on Friday, September 23 and Saturday, September 24 starting at 8:00 each night.
---
Come put and support the kids tonight! Elementary kids playing basketball and the high school kids coaching. It's going to be a fun night.
Games start at 5:30.
---
The Parent Center for the Calico Rock School District is located on the elementary campus in rooms 11 and 12.
The parent center facilitator is Ladonna Franks. If you have any questions, please feel free to contact her at 870-297-8533. In addition, parenting information is also located on the high school campus in the guidance counselor's office.
For a list of resources and information, please go to https://pirates.k12.ar.us/parent_center
---
Parents, guardians, grandparents and community members are all invited to the Athletic Booster Club meeting tonight at the high school. Be a part of the planning for the upcoming year!
---