Archive: January 2023
Calico Rock School will be in session Friday, January 27, starting at regular time. Buses will run paved roads only.
---
The Calico Rock School District will have AMI Day #2 on Thursday, January 26.
---
The basketball games scheduled for Thursday, January 26 have been cancelled.
We will look to reschedule at a later date.
---
Due to the possibility of inclement weather we have decided that tutoring today will be cancelled in order to keep our staff and students safe.
---
The games tonight have been cancelled due to impending weather and have been rescheduled for Feb 3rd.
---
NO ONSITE INSTRUCTION.
CALICO ROCK WILL HAVE AN AMI DAY ON WEDNESDAY, JANUARY 25
---
Due to impending weather, tonight's junior games with Norfork have been cancelled. Norfork is needing to get in a conference game so they will not be able to come to Calico.
Tomorrow's games start time has been moved to 5:00 p.m. weather permitting. Stay tuned for updates as the wintery weather moves closer and we have a better idea of how it will affect activities.
Remember to keep watch on our website, facebook page and tv and local radio stations for updates on school closures due to weather.
---
---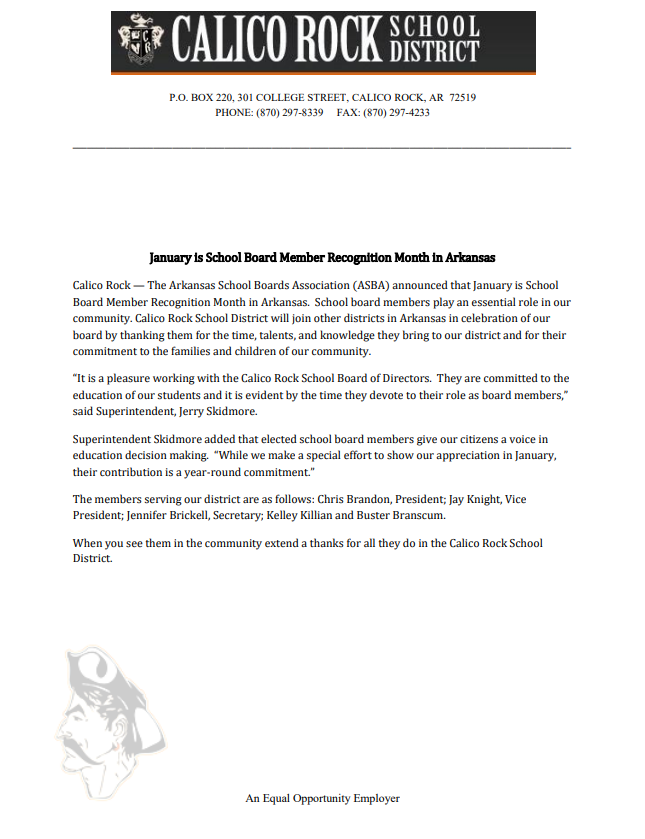 ---
Happy New Year:
Please share this important message
with your high school juniors and their families so they'll fully understand how a higher ACT score this spring can save them thousands of dollars and improve their futures.
We ask school leaders to please strongly encourage all juniors to sign up for the February 11 ACT. Time is short. The deadline is this Friday, January 6. Students eligible for free or reduced lunch get to take the ACT four times for no cost. The juniors who prepare for and take the February 11 ACT should score even higher on their mandatory spring test at school.
Also, as the video urges, please encourage them to finish the course on their own before February 11. They'll be ready for February 11 and then their spring test should go even better.
---
As soon as we have brackets for next week's Junior High Tournament at Hillcrest we will post them.
Junior Girls play Saturday, Jan 7, against Maynard at 10:00 a.m.
Junior Boys play Saturday, Jan 7, against Hillcrest at 11:10 a.m.
Addition to the schedule
January 26 Junior High Night (3,3b,4, 4b) vs. ICC
Home game, starts at 5:00.
---
Happy New Year!
We are looking forward to seeing everyone tomorrow at school.
Let's make 2023 a fantastic year!
---