2021-2022 Calico Rock High School Homecoming

Calico Rock High School will celebrate Homecoming 2021-2022 on Friday, January 7, 2022.

Pirate Spirit Days are as follows: Homecoming Kickoff
Monday, January 3- PJDay (Wear your comfy pajamas)
Tuesday, January 4-Generation Day (Dress like an older person, a baby or anything in between!)
Wednesday, January 5-The High School will be: Anything But a Backpack (Get creative and find an alternative way to carry
your things to school other than a backpack!) The Elementary will be: Wacky Wednesday (Wear Mismatched Clothes and Crazy Hair!)
Thursday, January 6-Color Wars (Seniors: Black, Juniors: White, Sophomores: Orange, Freshmen: Gray, 8th Grade: Pink, 7th Grade: Blue, 6th Grade: Red, 5th Grade: Orange, 4th Grade: Purple, 3rd Grade: Gray, 2nd Grade: Navy Blue, 1st Grade: Green, Kindergarten: Royal Blue, Preschool: Black);
Friday, January 7-Black & Orange Blitz!
Other activities include: Friday, January 7--School Pep Rally at 12:45 p.m. and Ice Cream Social at 1:30 p.m.
The Calico Rock Homecoming Royalty will be announced AFTER the Junior Boys game which begins at 5:00 pm.
The Calico Rock Pirate Jr. Boys will take on the Rural
Special Rebels at 5:00 p.m., followed immediately by the announcement of Homecoming Royalty (approximately 6:00-6:15pm).
The Sr. Boys will hit the hardwood after the Homecoming ceremony followed by the Sr. Girls to complete basketball action for the night.
Members of the Homecoming Court include:
7th Grade Representatives: Max Hood & Alivia Hudgens
8th Grade Representatives: Joseph Beckwith & Kenya Speirs
Freshmen Representatives: Mason Dixon & Alia Kearbey
Sophomore Representatives: Christian Ricketts & Carolina Brown,
Junior Class Representatives: Dakota Sherrill & Lyrick Stapleton
Senior Class Representatives:
Stratton Sanders, Daniel Stephen, & Matthew Williams
Emma Grigg, Cassidy Mendez, & Shelby Walters

Following the games, the CRHS Student Council will host a dance for students until 11:00pm. Cost for the dance is $3.00.
Pirate fans are strongly encouraged to come out in full force, enjoy Homecoming festivities, and cheer on the Pirates as they take on the Rural Special Rebels!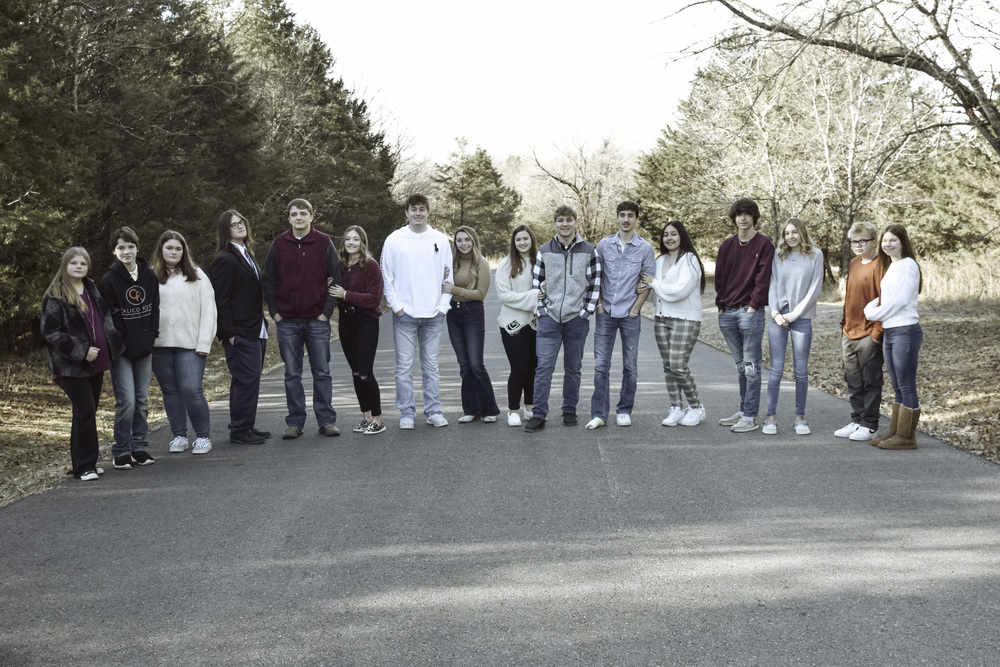 Photo ID: (from L to R): Alivia Hudgens, Max Hood, Carolina Brown, Christian Ricketts, Dakota Sherrill, Lyrick Stapleton, Stratton Sanders, Shelby Walters, Emma Grigg, Matthew Williams, Daniel Stephen, Cassidy Mendez, Mason Dixon, Alia Kearbey, Joseph Beckwith, and Kenya Speirs
---